Have you ever dreamed of the possibility of using Apple OS X Mavericks on your Windows system ? In Computer Today we show you what you will hardly find on the net, how to do it step by step, thanks to the information we have been collecting. We hope you enjoy it!
Advertisment
1:

Make sure your computer supports VT-X

Importantly AMD users may experience problems when performing the procedure. We've done it on an Intel processor. On the other hand, since resort to virtualization, machine performance will depend greatly on the hardware resources that we assign to the virtual machine.
---
The first step is to make sure that our team supports hardware virtualization technology VT-X . Most modern computers do so without problems, but with older might find that they do not accept. We can access the computer's BIOS and check that it is enabled. The way to get to vary according to the model of our choice motherboard, but usually we find a similar image that refers to the hardware virtualization option.
2:

Download OS X Mavericks image for VMware

Now need to download an image of OS X Mavericks coming specially prepared to run on VMware Workstation , which is virtualisation software we use to summon him Mavericks.

We will have to access the web where we can show the download links (by parts, though swift as Mega used) and download all parts well on our team.

Modification : failing is apparently a part of the RAR download. We offer this alternative download .
3:

Make Mac OS support VMware Workstation

You need to download a "unlocker" that once executed makes VMware Workstation allows to recognize OS X as virtualized operating system , which by default is not supported, since OS X is not an operating system in mind beginning to be virtualized in VMware Workstation Windows .

The requirement is to work with the version of VMware Worsktation 9 (although in principle it should work with version 10) and on Windows 8 to 7.

Download the unlocker will be made in the previous step, so we can find it in the folder in the path: OS X 10.9 DP1 Mavericks VMware Image \ VMware Unlocker – Mac OS X Guest \ VMware 8.x 9.x + Series \ VMware Workstation Unlocker – Window.

Remember before this step close VMware.

Now you just have to right click and run as administrator install.cmd, to patch VMware.
How to install OS X 10.9 in Windows Mavericks with VMWare
4:

Add the virtual machine and set it

Once we have patched VMware, we are able to unpack all RAR files containing the virtual machine for VMware OS X Mavericks in a location where our team will maintain our virtual machine while we want on the computer.

We done this, we headed to the location where we made ​​the decompression and we double-click on the only file that ends in VMX . Ignore that image "Lion" appears.
That's when we open the virtual machine in VMware Workstation , but still not turn on, then we will make some presets.
Advertisement
Right-click on the tab that has opened for the virtual machine OS X Mavericks:
Then we will open a screen like this, where we set the amount of memory you want to allocate to the virtual machine (minimum 2 GB) and the number of processors that wish to assign.
5:

Check that works Mavericks
---
Now is the crucial moment. If all goes well we can start the virtual machine by pressing the corresponding button (green triangle) and see the loading screen for Mac with the Apple logo and see what we can follow the steps to install the operating system.
If, however, there has been a failure, not get passed the screen with the Apple logo, in which case it's probably that we have not properly applied the patch to VMware to allow booting OS X Mavericks, which should review Step 3.
6:

Setting full screen

To view full screen OS X Mavericks is necessary that we install the VMware tools (VMware Tools). To do this right click on the disk icon that appears in the lower right area and chose VMware Workstation Settings …
In the screen that opens us in Use ISO image file look in the computer for the ISO image found at the location:  OS X 10.9 DP1 Mavericks VMware Image \ VMware Unlocker – Mac OS X Guest \ VMware 8.x + 9.x \ Tools \ darwin.iso.
We start the virtual machine, in this way, and we see that a disc appears with tools. And proceed to install it and you can adjust the screen size of OS X Mavericks to our monitor.
Now turn off the machine and indicate in the Connection section instead of the ISO image used physical device (first option) is used.
Configure VMware Shared Folder in OS X 10.9 Mavericks with Windows 8,7
11) Go to settings of virtual machine and add a Windows 8 or 7 host folder/partition. While setting up, you can select 'Read Only' if you like to protect the host data.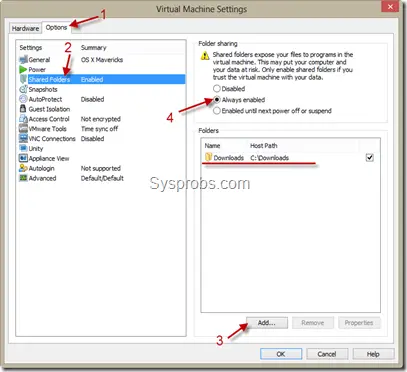 Remember: VMware shared folder doesn't require any network connectivity or configuration between host and guest. This purely works with VMware tools and integration services. So, it is very simple to configure and use without network connectivity.
12) Inside Mavericks guest OS, you can access VMware shared folder in Computer as shown below.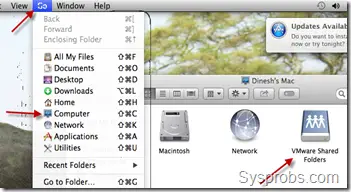 The particular pre installed image was built and uploaded by souldevteam website and all credits should go to them.
Here is a video tutorial guide which made by the owner of this OS X 10.9 VMware image.
OS X Mavericks 10.9 Retail VMware Image Release Notes

---

– Apple dropped support for 32-bit mode in DP2 of Mountain Lion, so make sure
you keep the VMware Settings flagged as "Mac OS X 10.7/8 64-bit" otherwise
no bootable medium will be detected. Means you need a 64-bit Windows install.
– Comes with direct download links as usual. (Will be added soon)
– Embedded graphics drivers to increase number of available resolutions.
– Fast boot time on most machines, as can be seen in the video.
– Fresh installation of 10.9, everything was fixed during the installation.
– Kernel doesn't include any AMD patches
– Make sure VT is turned on in your BIOS, if available. Otherwise you need to
use the Hardware Bypasser alongside VMware 8.
– Recommended you run on the latest version of VMware, as that's what it was
tested on, and apparently fixes Apple logo stalling in certain situations.
At least try to use VMware 8+. VMware 9 or 10 to be safe.
– Take a snapshot when you get to Finder for the first time. Gives you a "save"
point to revert to should you break anything.
– We uploaded an updated VMware Tools to our Mediafire folder here. These
tools came with the latest VMware release and support Mountain Lion.
If you report back on the state of things working, please do so clearly on this post. iMessage Enabler is still untested, but should work in theory. VMsvga is included already, and VMware Tools have been officially released with Mavericks support, so they should function correctly.